Cultural Transformation
From the Archive
To Champion You Must Challenge
The Drawing Center, located in New York City, is a nonprofit art space that focuses on the exhibition of drawings. Since its debut, The Drawing Center has not only championed underappreciated works by famous artists, but showcased drawings by lesser known, emerging artists. This unique cultural institution is a platform for new voices and ideas, with a reputation for upending traditional ideas about art.
The Drawing Center was founded by former assistant curator of drawings at the Museum of Modern Art Martha Beck in 1977, with the mandate of seeking to "express the quality and diversity of drawing -- unique works on paper -- as a major art form". Despite the incredible range of work being exhibited in New York, the notion that drawings were merely preparatory, not significant in their own right, struck Beck as misguided.
A drawing looks to the origin and exploration of a concept. Ephemeral media, like charcoal sketches can be extremely revealing. The final product, a painting, might be more valuable as an object but may contain less interesting content. Reconsidering what a drawing is, why a sketch may be just as significant as the painting it anticipated, challenges assumptions perpetuated by dominant institutions.
Challenge, in turn, can facilitate a vigorous artistic dialog open to new ideas. In this way, even an unassuming debate about media can raise questions concerning what we value, why, and what else can be done. Small institutions like the Drawing Center can ask big questions because they do not represent extensive collections which are invested in traditional ideas.
The Drawing Center represented a new idea for what an exhibition space could be at the time of its founding. Since then, its model has been widely emulated, inspiring spaces across the country which prompt audiences to re-examine artistic orthodoxy, past and present.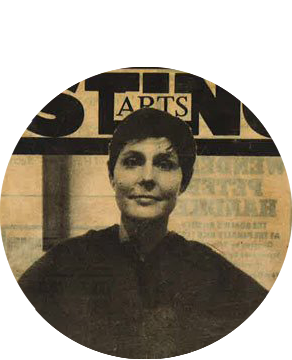 New York Times listing for The Drawing Center debut.
Curator Martha Beck founded The Drawing Center in 1977

The Drawing Center, a museum in Manhattan's SoHo district, explores the medium of drawing as primary, dynamic, and relevant to contemporary culture, the future of art, and creative thought.